Description
43″ DIGITAL ANDROID BATTERY A-BOARD Outdoor ( White)
Fully Portable
With a moulded polymer rear these displays are incredibly lightweight and this, along with their rugged castors, means they can easily be moved by one person. The specialised castors are designed to minimise vibrations on uneven surfaces, protecting the internal components for a longer product lifespan.
Tempered Anti-Glare Glass
These displays feature a tempered glass front that has been specially treated to give an anti-glare finish. This completely diffuses external light reflections without reducing the brightness of the screen, improving the readability of on-screen content.
Battery-Powered Display
The integrated lithium-polymer battery offers an amazing 27 hours run time from a single charge*, allowing you to display messaging all day and night without needing to recharge. A secure housing safely isolates this commercial grade battery from other components for total peace of mind.
*Excludes degradation and user damage caused by sulphation, deep cycling and overcharging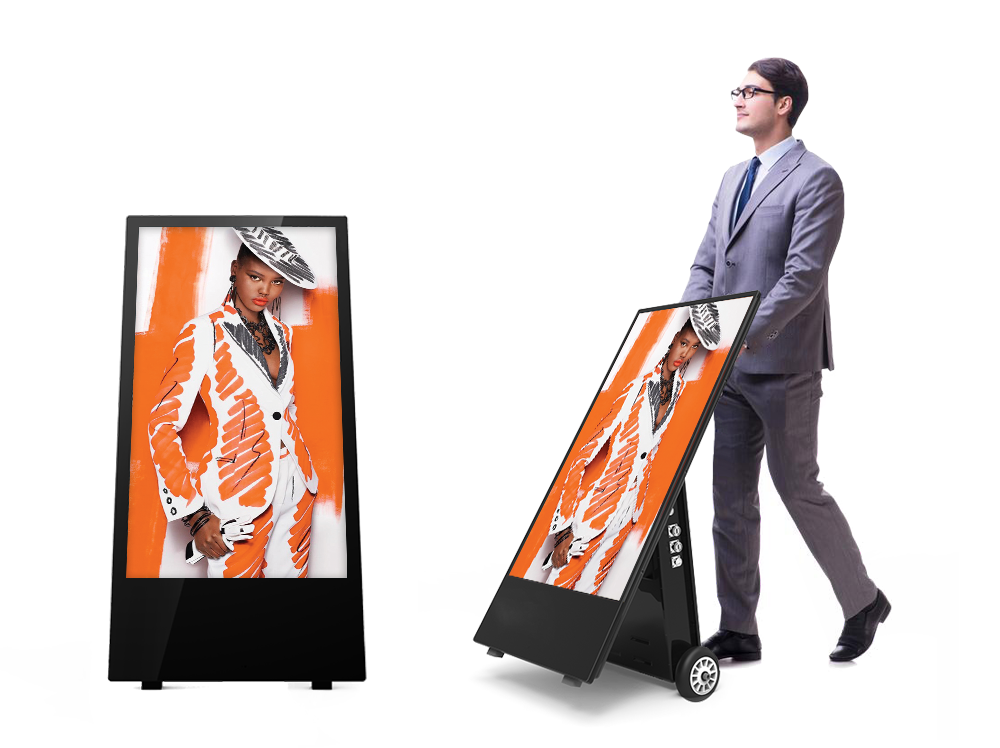 Fully Weatherproof
Designed to withstand the elements, these displays are protected against all wet weather conditions and airborne dust particles by their robust IP65-rated outer casing. This means they can be used in any environment, come rain or shine.
700cd/m² High Brightness
These displays strike the perfect balance between brightness and battery life. With a high brightness panel which is up to three times brighter than a domestic TV, the screen is clearly visible in outdoor spaces without compromising on running time or battery lifespan.
Robust Fixed Design
Unlike traditional A-boards, these displays have a sturdy non- foldable design for ultimate durability and extended lifespan. This is further enhanced by the tempered glass front, which protects the panel and internal components from damage.
Secure Locking Bar
Once in position, the rugged castors can be locked in place with the built-in locking bar. For additional security, a padlock can be used to lock the bar in place.
Complete Signage Solution
Power Timer
The eco-friendly power timer allows you to assign daily or weekly on and off times for your screen. The ability to power on and off automatically means that the screen is only in use when it needs to be; improving your environmental efficiency.
Fully Portable Solution
These freestanding displays are a fully portable solution and can be easily moved by one person as they feature fixed castors. These wheels can be locked to prevent the screen from moving once in place.