Description

Sharp 50″ PN50TC1
Overview
PN50TC1
is the first of the industry-leading BIG PAD interactive display models to serve the exciting new Huddle meeting space requirements for 2-6 people. Having a responsive PCAP touch, easy-to-use approach, and fast setup time is central to the
Huddle concept. The Mini OPS option slot allows for a clean and tidy integration of an optional wireless module, which allows prompt and easy BYOD collaboration with mobile devices. For the rapidly evolving office environment, with increasing numbers of informal meetings, as well as new possibilities in interactive retail signage, the
defines a new standard in versatile medium-sized interactive displays.
Sharp's surprisingly different 50" BIG PAD is equipped with a particularly fast, responsive and intuitive PCAP Capacitive 10-point multi-touch, which offers optimised performance for huddle meeting rooms, as well as interactive retail touch applications. Sharp's suite of application software, including PEN software for enhanced team communication and the capturing of all creative expression, means that industry-leading decisive and productive collaboration is achieved.
With the importance of video conferencing and video-collaboration, users can easily mount a web camera to the conveniently positioned attachment holes on top. Similarly, quick setup and versatile placement is assisted with the bundled desktop stand (landscape orientation).
The bundled SHARP Touch Viewing Software offers an easy-to-use interface and file system to collect and organise data from different collaborative projects. Perfect for huddle meetings handling multiple data files.
• BIG PAD FOR HUDDLE OFFICE MEETING, SPACES AND INTERACTIVE RETAIL SIGNAGE
• FAST AND RESPONSIVE PCAP CAPACITIVE 10 POINT TOUCH – UP TO 4 USERS
• MINI OPS SLOT FOR FLEXIBLE ENHANCEMENT
• SHARP PEN SOFTWARE FOR INTUITIVE WRITING, DRAWING AND ANNOTATION
• SHARP TOUCH VIEWING SOFTWARE FOR ORGANISING COLLABORATION DATA
• SHARP DISPLAY CONNECT FOR LATEST BYOD WIRELESS COLLABORATION
The BIG PAD PN50TC1  is Sharp's fresh approach to boosting dynamic business meetings.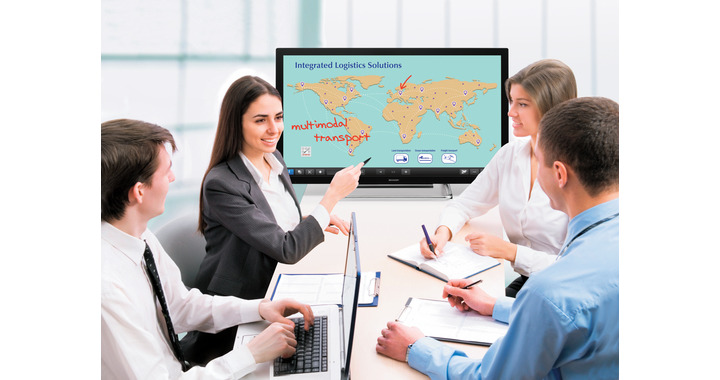 Create Huddle Spaces with the Sharp BIG PAD PN50TC1
The Sharp BIG PAD PN50TC1  has been specifically designed for use in Huddle Spaces. The compact interactive display offers a host of features that make it not only user-friendly but also cost-effective to deploy.