Description
Ultra High Brightness Hanging Double-Sided Window Displays in Black – 49″
These Ultra High Brightness Hanging Double-Sided Window Displays are perfect for shop displays. Offering a 3,500cd/m² outward-facing screen to combat direct sunlight and a 1,000cd/m² inward-facing screen to combat brightly-lit indoor spaces, these dual-sided displays are designed for shopfront windows. On top of this, they are also ultra resistant to blackening defect up to 110°C.
Content Management software
HERE
Different Content on Each Side
When using our user-friendly online CMS software, you can really capitalise on the duality of these High Brightness Double-Sided Displays by broadcasting different content on each side. Tailor your messaging to people inside and outside the building for maximum effectiveness.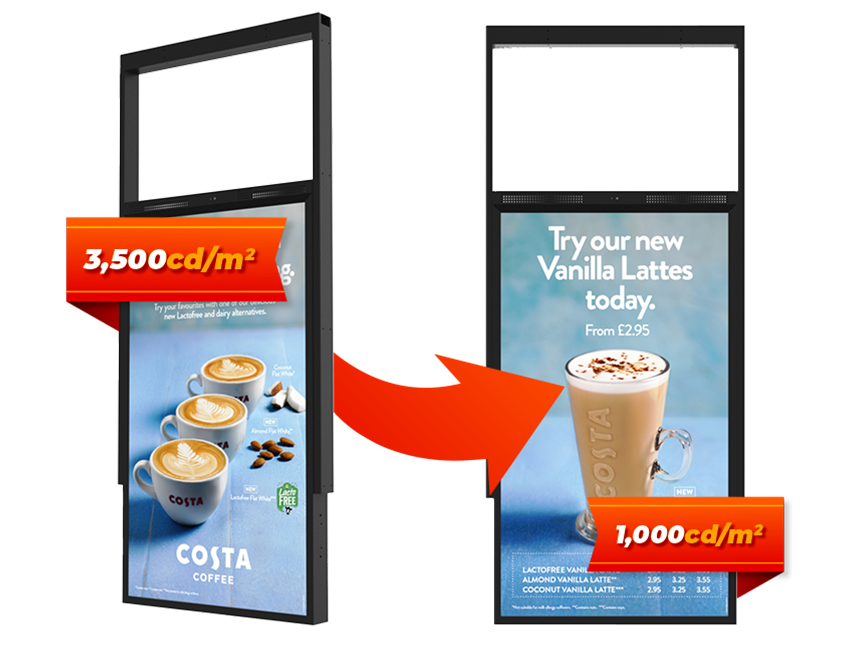 Lightweight Slim Enclosure
Thanks to their streamlined design, these innovative displays feature a slim depth, minimal cord clutter, and high energy efficiency. Plus, not only is the aluminium enclosure incredibly lightweight for easy installation, it also has high thermal conductivity. This allows rapid heat loss, improving overall performance and increasing lifespan.
Integrated Android Media Player
The integrated Android media player allows you to easily update on-screen content via USB plug and play. Alternatively, upgrade your screen to be networked without needing any additional hardware to unlock our cloud-based CMS software. Third-party software can be installed instead if required.
Smart Temperature Control
The responsive internal airflow system keeps the panel and other internal components at optimum working temperature. This ensures a long and reliable life for your screen, even when used continuously in outward-facing windows.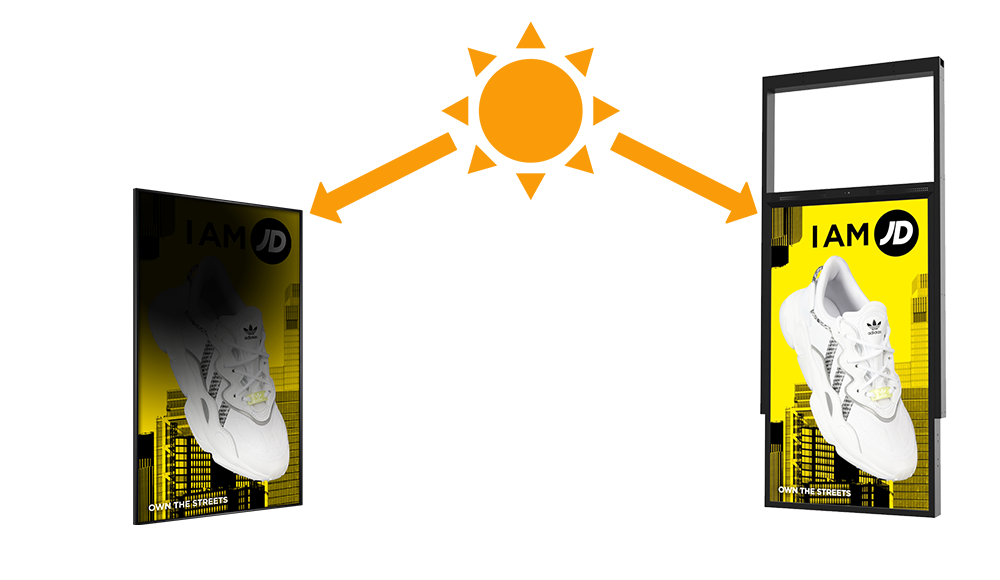 Ultra Resistant to Blackening
Thanks to their special ultra-high brightness panels, these displays can withstand surface temperatures up to 110˚C without suffering from any blackening defect. This is crucial for outward-facing window displays, which must contend with exposure to direct sunlight.